Rosie De Lise lives and works out of her home studio in Troy, New York. She mainly works with pigment ink pens and colorful alcohol markers, and also creates collages using a variety of mixed media. Her art is characterized by rich, bright colors and imaginative animals and characters.

Rosie completed a BS with honors in Electronic Media, Arts and Communication at Rensselaer Polytechnic Institute in 2004. Since then she has lived in several places around the country including Boston, the Philadelphia area, and Eugene, Oregon before settling back to upstate New York.

Rosie is an emerging artist focusing on practicing her unique style and growing her body of work. She is currently working on two series of pen and marker illustration works – Stained Glass Style Portraits, and Whimsical Dinosaur Scenes. She also keeps a daily illustration journal to practice her character design, and a mixed media art journal, which plays a large role in her creative process.

She is currently taking on commissioned artwork for selected clients and selling art prints, cards and other products in her Etsy store.
I believe something else is possible.
We are not limited to the world around us. Through bright colorful drawings and mixed media creations full of texture and depth, I create casts of characters and new worlds to step into, to take the viewer somewhere else just for a few moments. Through my art, I invite my audience into my imaginative realities, so they can look at their own a little differently.

I work with alcohol markers, pigment pens, watercolor and mixed media papers for all of my drawings, and assorted materials for my collage work. Before I start a piece, I usually limit my color palette and materials that I will work with. Self-imposed restrictions and guidelines allow me to let my creativity expand beyond those boundaries as I produce the work. My finished pieces tend to have structure and balance, containing the chaos and emotion within.

My past work has been a mixture of abstract composition in painting or collage to capture emotion, and illustration to capture scenes from life. Now, I am exploring the use of fanciful characters such as dinosaurs, creatures, animals and monsters in my work. These characters allow me to express feeling and also build environments that do not exist in our world. Through my characters and scenes, I am attempting to place human emotion in a context that is totally separate from the human world.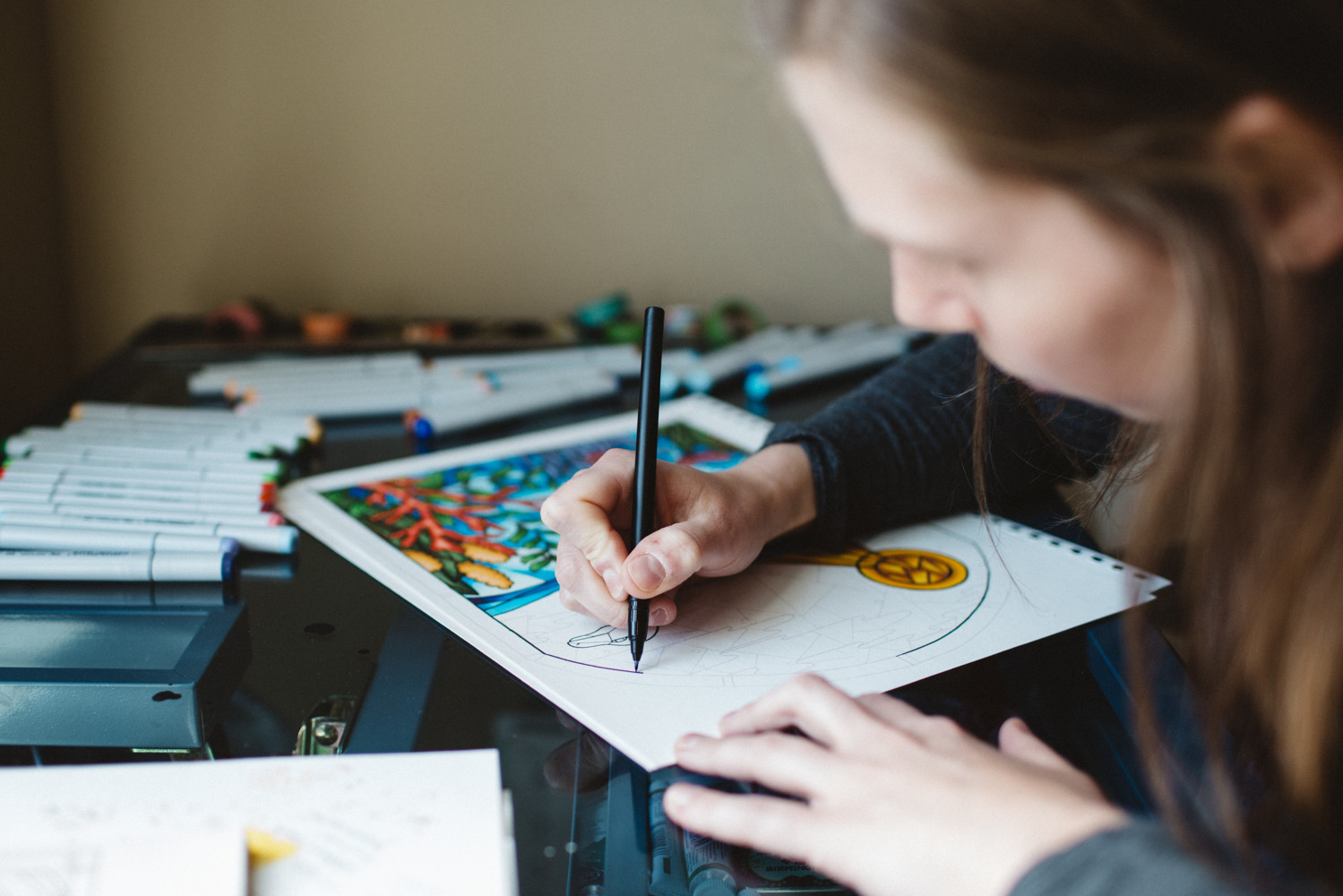 Ever since I was a little kid, I always loved creating things.
I always loved the feeling I got when I was able to make something out of virtually nothing. It felt like magic when I was able to have a vision in my head, and then realize that vision in some sort of tangible medium.
Then I started growing up. I started school and was influenced by my parents, teachers and peers. I began to buy into the belief that making art and being creative is something you did "as a hobby." If you wanted to make money and live a predictable, secure life, you went out and got a career in a profession that was safe and reliable and would give you that security you are taught to chase after.
So I did that, and by the time I graduated college and was working my first job, I was hardly creating art at all. I took up knitting for a while, and did that, following other people's instructions to make their creations, while I was glued to the TV. I wasn't happy, and I didn't understand why. I did all of the things everyone said I should do, and I was living on my own and taking care of myself without anyone's help. I should be happy and content going through these motions. After all, I had made it, right? Yet, I would find myself in an art gallery, on the verge of tears because I wasn't part of that world. I would go into art stores and buy supplies, just to see those supplies sit on my shelf collecting dust.
I did this for 10 years. So much time had gone by, that I no longer considered myself a creative person or an artist. I was afraid to pick up my art supplies, because I knew whatever I made wouldn't look right. I thought that since I hadn't worked on my art in so long, what was the point of even trying now? Even though I was feeling bad about myself and hitting this low point, I knew I didn't want to settle for this kind of life.
So, I hunkered down and became super determined to become the artist I know I always have been inside. I committed to a daily art practice, eliminated distractions from my life, and made a lot of imperfect art. I shared that imperfect art with others, even though I was scared to. I didn't give up, and everyday I showed up at my art desk and did something. With every action I took, and every piece of art I made, I would shed a layer of fear and feel ready to try something more challenging and out of my comfort zone. Just a year and a half later, I am drawing full color portraits of people in my own unique style!
Check out my progress below. The picture on the left was taken on October 7, 2015. I was so excited that I reached 125 followers on instagram. I was (and still am) practicing drawing my dinosaur characters at the time. I was just getting started with markers. The picture on the left was taken on October 14, 2016. Now, I am creating and finishing rich, full color portraits of real people using markers and pens in my own unique style. This progress is a result of consistent, daily practice and focus, a commitment to my art, and believing in myself.
| | |
| --- | --- |
| October 7, 2015 | October 14, 2016 |
I believe that anyone can tap into their creative power and be the artist they truly know they are. I have spent years dealing with my fear of being an artist. I have given countless hours of my free time to TV, endless social obligations, and unnecessary chores before I have had the courage to leave that comfortable, normal lifestyle and live a challenging, fulfilling artist's life! I can't wait to see what happens next!