I have been a very active participant in Kate Crane's 365 Days Art Calendar Challenge for all of 2012 and now 2013! During 2012, I didn't make much time for art, so usually my monthly art calendar would be my only project going. Because of that, I would pour my heart and soul into it, and create time consuming multi-step layouts with illustrations. This year, however, I am making a lot more time for art. I usually have many projects going at one time, and I am finding myself at the start of a new month with no calendar layout even started! I'm sure many of you find yourselves in this same boat. The good news is that it doesn't take very long to create a new calendar layout that will be fun to journal on throughout the month.
Below, I will show you how to create a quick and easy art calendar layout that you can finish, last-minute, in a couple of hours or less. I have used this process to create my February and March pages, and the steps below show my May page coming together this same way.
You will need:
Your art journal, or whatever surface you are using to keep your art calendar
Paint – I used watercolor, but you can use whatever you like best
Glue – glue stick, Mod Podge, whatever you like. I used both a glue stick and Mod Podge
Colorful paper scraps & embellishments – I am assuming most people that journal or scrapbook have a paper stash. If not, go through a magazine and rip or cut out whatever is interesting to you
Pens or markers – whatever fun pens you like using.
Card stock or sturdy paper – paper you will use to create your calendar squares
Scissors or cutting knife w/cutting mat
ruler
Step 1 – Open your journal to a blank page and arrange your supplies around you.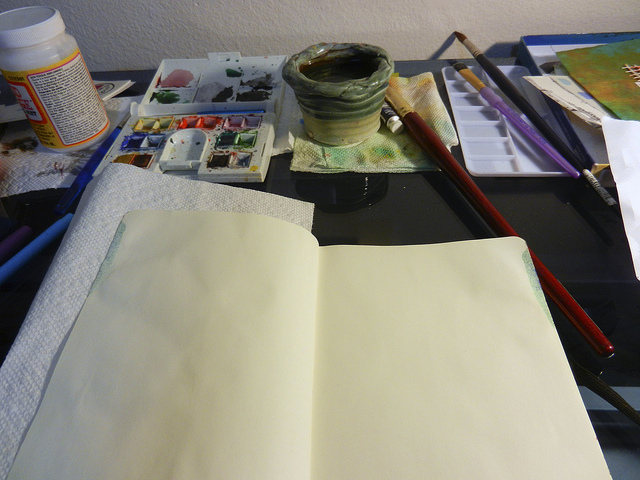 Ah! The possibilities of a blank, new page! I like to open my journal to a new page, and put a piece of paper towel underneath the left page, so the water from my watercolor paint doesn't get on the finished pages underneath. Then, I set up my paints, brushes, glue, and whatever else I think I will need in front of the journal.
Step 2 – Paint your background.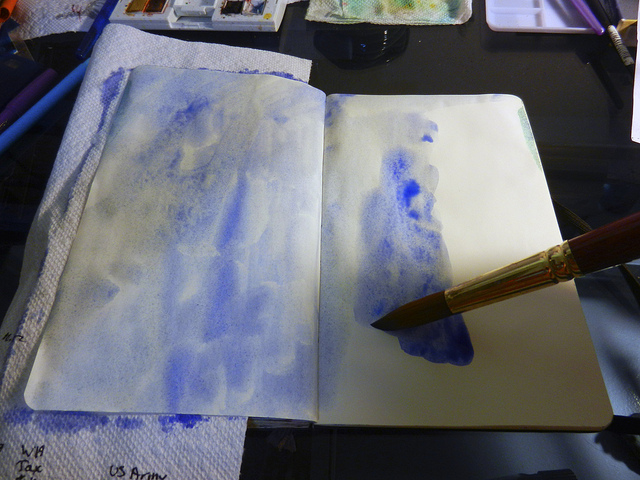 We're going to get our art calendar off to a fast start by filling in the two pages with a painted background. I know I want a purpley-blue background, so I added a blue watercolor wash first. Continue to add more colors, mix them together on the page, or add more layers of color until you get the color you want. Do not try to make this look nice or perfect or even. This should be a very quick step. We are not going to see much of the background at the end, and I actually think pages look better if the background is a bit messy looking.
I added several more layers of color until I got the purple/blue I was looking for. Sometimes it helps to dry your pages before adding more paint, and you can use a hair dryer to speed up this process. I used a hair dryer to dry my pages at the end, so I could quickly move onto the next step. Here's my finished background:
Step 3 – Choose paper scraps you will use to cover up your background.
Go through your paper stash and pick out some scraps you would like to use to make a collage all over your pages. When I am in a hurry, I use the following two rules for quickly going through my stash and picking out papers:
Choose papers in a color that closely matches the background.
Choose papers in a contrasting color to the background. To make it really easy, you can make your contrasting color a complimentary color to your background.
I've found that choosing papers and items according to those rules will pretty much guarantee that my layout will come out looking pretty good and interesting. But, of course, take your own artistic liberties!
Place all your papers in a pile or in a container to keep them from going all over the place. Here's what I chose for this layout. I am using an upside-down box lid to hold them in a pile on my desk.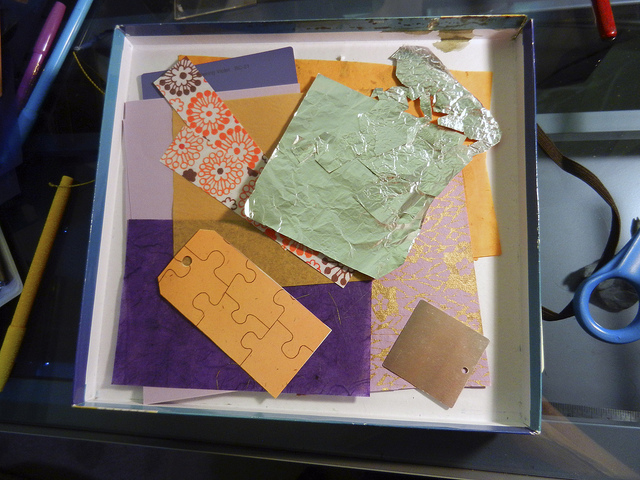 You can see I choose some purple papers, which go with my painted background. I also choose some contrasting papers in an orangey-yellow color. Violet and yellow are color compliments, and so are blue and orange, so I thought this light orange assortment of contrasting papers would look good. I also choose some silver foil, and a paper printed with a gold metallic ink to add some shiny (I love my shiny!)
Step 4 – Get your collage on.
This is probably my favorite part of the whole process. Take your papers that you picked out from your pile and just start gluing them on to your pages to create a collage across both pages. You can cut them up, punch shapes in them, rip them up before gluing, whatever you want! Just don't think about it too much. Layer up those papers and stick 'em on. I just used a kid's glue stick for this part. It will come out great. Here's how mine turned out: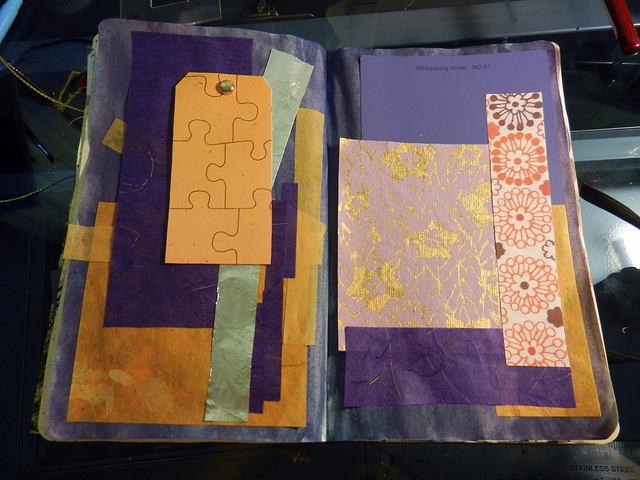 You can see here I didn't cut up my papers too much. For this process, I like using simple square or rectangle shapes. You can see how the contrast between the blue/purple papers and the contrasting yellow papers adds a lot of interest without much effort. I used a few patterned papers on the right side page just to take it a bit further. I added the yellow tag on the right with a gold-colored paper fastener thing. This element will give the page a little depth, and you'll see that more once we get to the lettering in the next step.
Step 5 – Add your letting for the current month.
Once you have your collage all set the way you want, it's time to add the lettering for the current month. The calendar I'm making is for May, so I need to add "MAY" somewhere in this layout. You can do this lettering anyway you want. You can doodle it, stamp it, make paper cutouts for the letters  – again, whatever you want! When I am in a hurry, I like to add my lettering using stencils and cool pens. A few months ago, I bought several sets of C-Thru Helvetica stencils in a few sizes, and I have used them SO MANY TIMES. I love them. I got them for a few dollars per set at my local art store.
So, here, I am using my stencils to create the word "MAY" vertically along the left side page. Luckily, May is only three letters long, so this is a very quick process!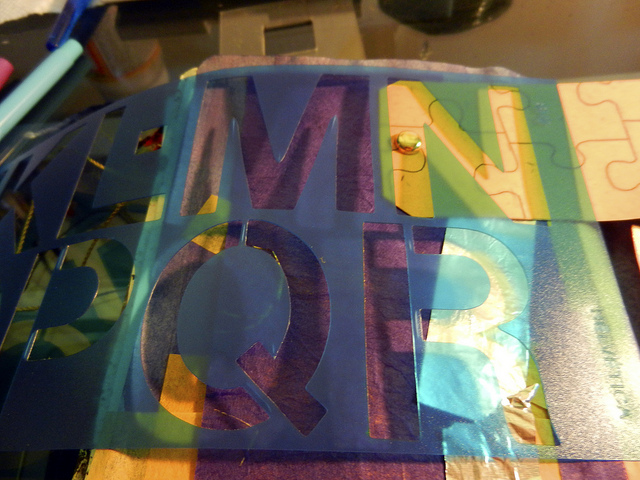 I used my gold metallic pen to stencil in the letters. After I got the initial outline down, I went over it with the pen again to make it a bit thicker on the page. I also turned that yellow tag to the side while I did the letters, because I thought it would look cool to have the letters peek out beneath the tag – also adds more depth. Here's how it looks all done: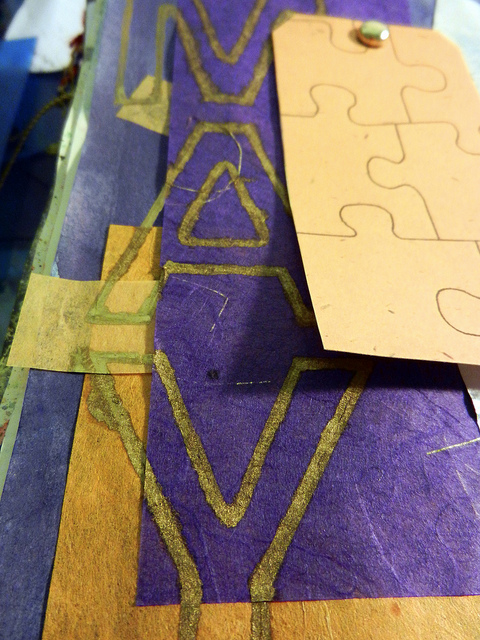 You can see the gold ink bled a little into some of the papers. I love this! Embrace your happy accidents.
Alright, so now we have our whole background with collage layers, and our lettering all done!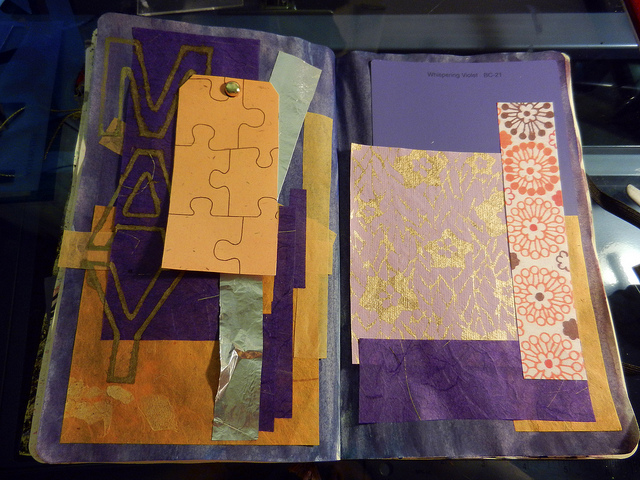 Step 6 – Add your calendar squares.
This is the last step! We're almost done! Now that we have our background, collage/interest elements, and lettering done, all we have to do now is add the blank squares we are going to journal on throughout the month. For me, this is not that much of a creative step, but sort of a tedious one that just needs to get done. So put on some tunes, and let's get it done.
Pick out some card stock or heavy paper to use for your squares. Just make sure it's a light-ish color, so you can see your journaling easily over the color. For my layout, I am going to choose a light purple and also a light orange paper.
Take your paper and cut it into one inch by one inch squares. I use an exacto knife, cutting mat, and metal ruler for this. It really helps if your cutting mat has a grid on it, so you can just line up the paper. You can also just draw a grid on the paper and cut it with scissors. This doesn't have to be precise or perfect. I've also seen others use a circle punch or other non-square shapes and sizes of paper to make the calendar days. By this point, I hope your inspiration is flowing, so you can make the "squares" whatever way would look best on your page!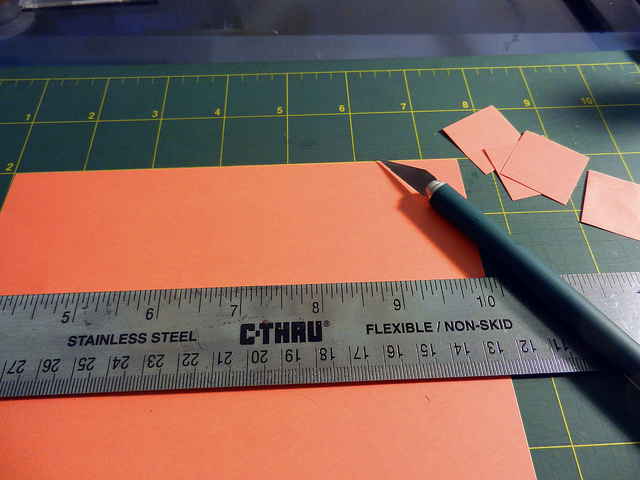 I cut out about an equal number of orange and purple squares. Just make sure you have enough for all of the days in the month!
Now, you can just start gluing the squares right onto your page or you can lay them out on the page in the orientation you want to see how they look best before gluing. I like laying them out first: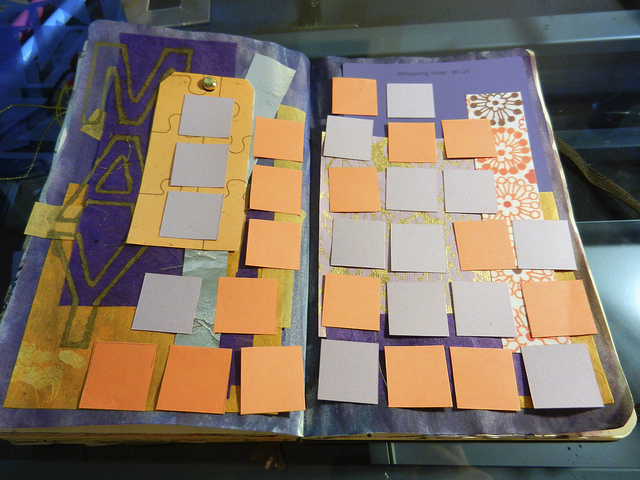 I settled on this layout for my squares. I mixed together the orange and purple squares willy nilly. I also placed a few on the orange tag. I encourage you to abandon the idea that the squares need to be laid out in a perfect grid just like you would see on a real May calendar. They can be however you want.
Once you are happy with the placement of your squares, glue them on! I use Mod Podge for this process, because I think it works better with card stock than a regular glue stick.
You're done!
Bam! Now you have your art calendar all ready to go for daily journaling for the whole month. Take a few moments to bask in its glory.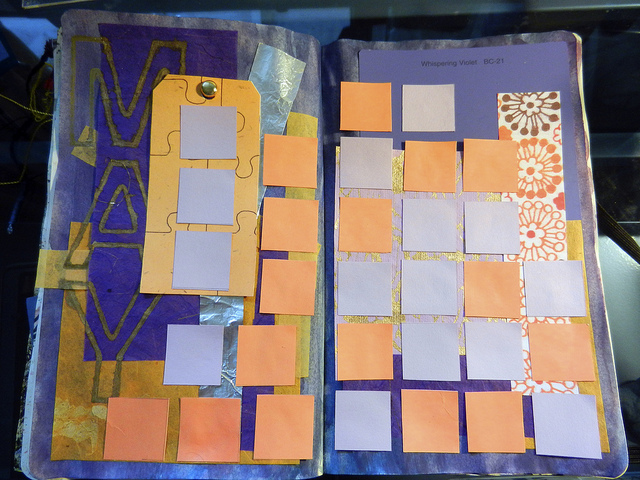 Remember that it doesn't take long to create a pretty calendar that reflects who you are. In a couple hours (or less!) we completed this project start to finish!
Take a few pictures of it, share it, admire it, and enjoy it for the whole month ahead!